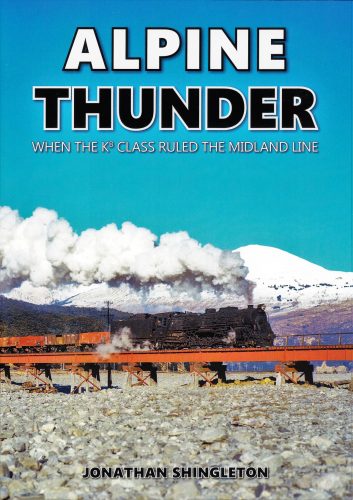 Finally, the complete story of NZR's most powerful conventional steam locomotive class has been documented.
Author Jonathan Shingleton details the operational constrictions of the Midland line, history leading up to the development of the KB class, including proposals to transfer X class to the South Island and add boosters. Learn how Midland Line east-bound loads were governed by EO haulage capacity through the Otira tunnel, the manufacture and bedding in of the KBs, their daily operation, the booster operation and maintenance, trailling of KB operations out of Dunedin, a proposal to transfer all KBs to the North Island, and their eventual displacement onto the Main South Line. Detail of the KB operations are neatly interspersed with crew accounts of operating the KB class; the firemen, drivers and fitters. Complementing the text is a lavish selection of black and white and colour images from the era.
Portrait format, 157 black and white and 55 colour photographs, tables, 3 diagrams and map.
272 pages hardbound.
You can order a copy by selecting Publication Catalogue under the "Publications" tab. Prices are shown in the catalogue and immediately below the prices is an option to "Order this book" which will take you to our on line order form which upon completion will give you the choice of paying by direct banking or credit card.