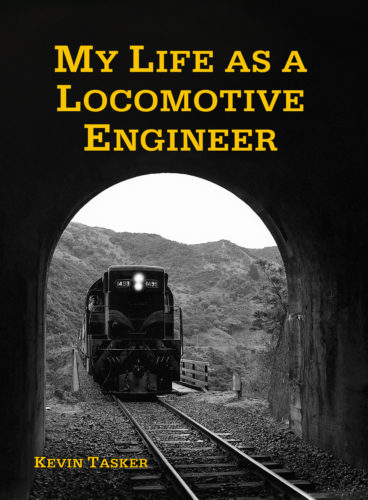 My Life as a Locomotive Engineer by Kevin Tasker
From his earliest childhood memories, Kevin always wanted to be a "driver". Starting the job at Napier loco depot in 1960, a period of time when Kevin was fortunate to have worked many steam operations between Gisborne and Woodville before the final fires were extinguished in June 1967. Following successive examinations, moving through "C" and "B" rosters, Kevin finally moved to the top roster in 1986, running hot-shot freights and passenger jobs in the Bay with DA, DC, DF and DX classes. While the diesel railway was the backbone of his employment, he opted to certify as a fireman and driver on steam excursions, many of those operations recalled in detail. Of course, the operational railway included interesting moments and those retold include breakdowns, restructuring, single-man operation, fighting to stay awake, speed, track incidents, closure of the depot, decline of the Gisborne line, and heading for retirement. Having retired, Kevin was asked to return for steam specials, but eventually ended up back working part-time, training-up and operating the DL class. His 55-year career spans an interesting period of railway operation that makes a fascinating read.
A4 portrait format, 19 black & white and 70 colour photographs, 1 map, 112 pages, soft-bound.
Price Posted to members:                                Price Posted to non members:
New Zealand – NZ$39.00                                 New Zealand – NZ$49.00
Australia – NZ$55.00                                          Australia – NZ$65.00
Rest of World – NZ$70.00                                Rest of World NZ$80.00
You can order a copy by selecting Publication Catalogue under the "Publications" tab.  Immediately below the prices is an option to "Order this book" which will take you to our on line order form which upon completion will give you the choice of paying by direct banking or credit card.