The following are examples of the types of materials we have in the archive. Click on the image thumbnail to see a preview of a sample archive item.
Railways Department Correspondence files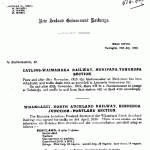 A large collection of Railway Department correspondence files are held at Ava. (These are in addition to those held by National Archives at various locations throughout New Zealand. A register of such files is held by the Society.)
Correspondence files from various branches and divisions of the Railways Department. Technical writings on various railway matters, particularly engineering, originating from staff and consultants.
The Staff Magazine. Produced at various intervals containing information about staff and of interest to staff. Official staff lists. Recorded annually, these are consulted frequently by those doing genealogical research. Reference by description. If you are seeking names from the staff lists please be careful with the position held and advise as much information as is already known, particularly full names. The lists are divided into Departmental divisions, Management and permanent staff. Accurate identification will assist the searcher. No information is held on temporary staff.
Plans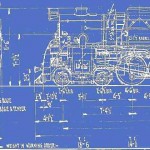 There is an extensive series of drawings, tracings, blueprint etc. that have been produced by various departments of the old NZR.
CCE list (Civil Engineers Office)
Chief Mechanical Engineer for the workshops at Lower Hutt, Addington and Hillside, Dunedin
Signal and Electrical Branch (Wellington)
Many unnumbered NZR Plans (for which we have created an index)
These are stored in branch and drawing number order. They vary in size from 8×11 inch and even smaller to very large similar to A1 size or bigger, especially CME plans. At present the reference method is by drawing number.
We will endeavor to find something for you by name and approximate date reference but cannot promise a successful result.
Maps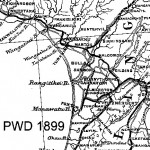 The map collection is catalogued and referenced by location and drawing number. Most originated from the CCE's office and include many annotated with railways additions, property lines etc.
We also hold a comprehensive collection of New Zealand topographical series maps, in both imperial and metric measurements, issued by the former Lands and Survey Department.
Working Timetables and Train Advice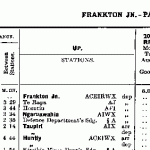 Train advices are amendments or additions to normal train services and operational requirements not covered in the working timetable. There are thousands filed in chronological order in decades. These are available for perusal.
Working timetables were used within the department and detailed the train numbers, distances, station structure, crossing points etc. – information not available to the general public.
Locomotive Work Instructions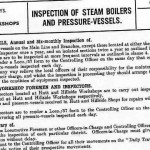 Loco 204 Work Orders were issued by the CME's office for work to be done by the Railway Workshops. These work orders covered work to be undertaken on locomotives, rolling stock and other sundry items.
Approximately 7,000 copies are held in our archives.
Aerial Photographs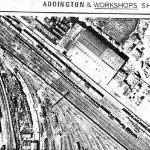 These complement the plans of station yards and were used by the Engineering and Land offices to derive yard layouts and alterations, for property definitions and many other applications. They comprise an invaluable record of the Railway's growth and often show other areas of importance in the locality. The reference is by station location.
These cannot be reproduced by the society but can be inspected at Ava. Copying can be done by the copyright holder whose name and photo reference number can be supplied.
Magazines and Newsletters on Railways Issues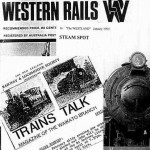 There is a comprehensive collection of periodicals from all over the world and also many local preservation society's new-sheets. The go back many years as many collection have been donated by members. A list of titles will be published in time.
Annual Railways Statements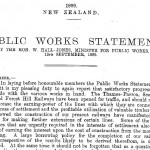 A complete sets of these from 1885 until 1992 is held.
Reference by year, category and topic for information.
Newspaper Clipping Collection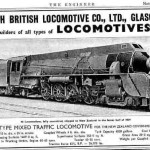 This comprehensive collection has been compiled by the society from publications dating back to 1860. It is a collection of clippings from:
Principle New Zealand newspapers of Auckland and Wellington
The Auckland Weekly News
The New Zealand Free Lance
Provincial Papers (items from many)
The New Zealand Truth
If you can give us date/publication/topic/place as near as you can with these we will attempt a match. The papers are filed in chronological order and photocopying is possible. Proceedings, Gazettes etc.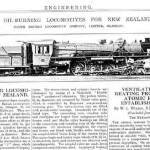 There is a collection of the following proceedings, papers, gazettes etc. bound and unbound
Proceedings of the Institute of Civil Engineers; 1932 on.
NZ Engineering
Engineering (London) from 1869 on
Railway Age 1923 on
Railway Gazette from 1906 to 1947.
These can only be consulted by arrangement but will not photocopy easily in the case of bound volumes.
Signalling and Interlocking Circulars
These circulars were distributed to staff to advise of changes to signalling arrangements and consequently the running rules. They have been catalogued and are referenced by the number of the circular, date and location. Dating from March 1901 to now, this collection is not complete in the early part.
A sample of the index: Manor Park (the location) 843, 944, 1535, 1824, 2243 (Sept 1993)
These are the circular No's applying to this location. Each subsequent number replaces the previous one.
Tickets, Various Forms and Documents
A large collection of tickets, forms and other items is held and will be displayed when suitable space is available.
Technical Manuals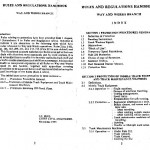 We have technical/operations manuals for some of the equipment in use by the NZR. This covers items from Locomotives to air compressors to commercial items ie. Westinghouse Braking Systems. These can be partly photo copied for information about specifications, instrument layouts etc.
Reference them by equipment name, year of manufacture and/or number.
NZGR D-class Steam Locomotives
New Zealand Government Railways operated a number of small four-coupled steam tank locomotives known as class D. Several went on to second careers with private owners. The NZR&LS Archives hold a number of working drawings of D class locomotives, which have all been scanned.
Copies of these scans can now be purchased on USB thumb drive from the Society. Full details of charges and a list of all the drawings held can be found in the downloadable PDF file.