Welcome to the New Zealand Railway and Locomotive Society
The Society was formed in 1944 by enthusiasts interested in the then New Zealand Railways. Membership is open to all with an interest in the New Zealand Railway system both old and new. Members can join a magazine and photo distribution group. Member groups meet in most cities where talks, films and other activities can be enjoyed. We are active in restoring locomotives and rolling stock which we own.
Changed Archive Open Hours – August 2019
The Society's archives, which are housed in the Thomas McGavin Building, located at 1a North Street Petone (adjacent to the Ava Station) will now be only open on Wednesday from 9.30 am to 2.30 pm and Saturday from 9.00 am to 2.30 pm. Members (and others) wishing to visit on other days should ring the archive telephone number 04 568 4938 to see if a key holder is there, if not leave a message on the answerphone or send an email to 'locoarchives@actric.co.nz'. Other contacts are Bill Prebble (tel no. 027 442 5632) or Graeme McClare (tel no. 04 528 2745).
2020 Calendar Now Available
Our new 2020 desk calendar is available to order now. View details here.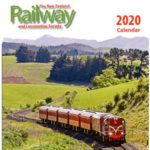 Notice of 2019 AGM
The New Zealand Railway and Locomotive Society Annual General meeting will be held on Saturday the 19th of October.
The venue is the Johnsonville Community Centre, 3 Frankmoore Avenue, Johnsonville.
The meeting will start at 2 pm and on its conclusion afternoon tea will be served.