Some pictures of the restoration work being done at our Silverstream site.
We have WMR Carriages 42, 48 and 52 which were made in the Thorndon Workshops of Jackson & Sharp  (USA) in 1902. Number 42 is under a canopy waiting it's turn.
Unless stated otherwise, all photographs by Rod Merrifield, Bill Prebble and Glen Fitzgerald.
Cover Me Ltd. of Upper Hutt has made the upholstery and fitted it all, based mainly on photographs of WMR carriages being built. The seats are leather, padded with foam rubber in preference to the original horsehair.

Carriage 48, drawn out into the sun.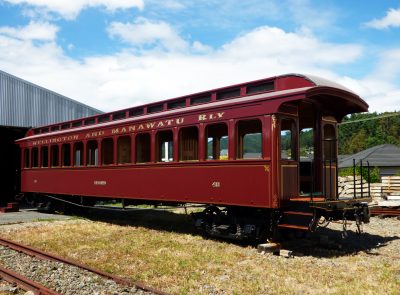 Signwriting completed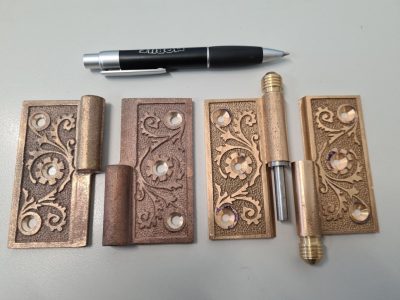 Door hinge parts: left, as received from the foundry; right, ready for final assembly.
Photo: Bruce Shadbolt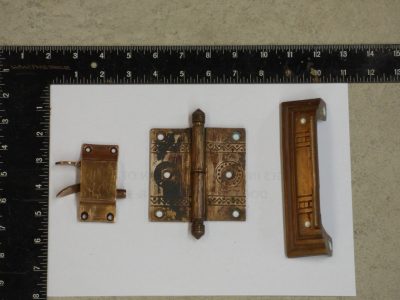 Salvaged parts that have to be replaced and/or reproduced as we progress with restoration: left to right, window latch, door hinge, catch-plate for door locks.
Photo: Rob Merrifield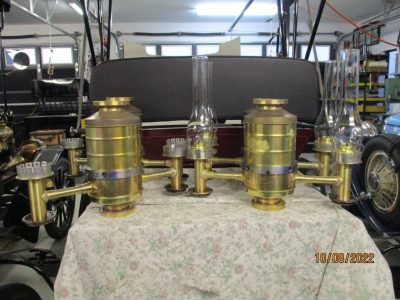 Part assemblies for reproduction kerosene lamps to go in WMR 48. This shows the large central oil reservoirs with brackets holding burners and their glass chimneys. Two burners per lamp.
Photo: Bruce Shadbolt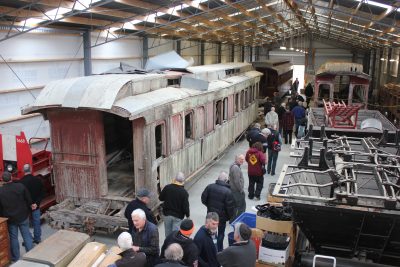 A Flashback to 2018 – members visiting the North End Workshop