Below are photos of the construction….
5th December 2003 and the side posts are being erected


16th December and it's nearly ready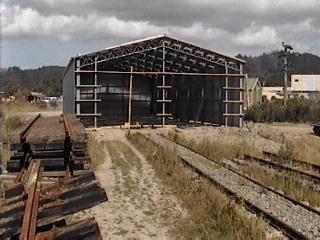 23rd of January – it's all go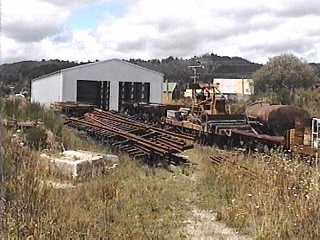 6th of March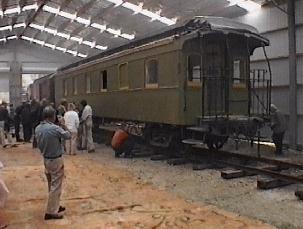 The shed is opened and our carriage is rolled into its new home.
The final product will be restored back to its red Wellington and Manawatu Railways livery.
The Commissioning of the New Building
This was presided over by our President Rob Merrifield. The Mayor of Upper Hutt City, Rex Kirton gave the council's perspective and the value of such ammenities to the growth of the city. Bruce Fordyce of the Hawkes Bay NZRLS told some of the history of the carriage and this was amplified by Bob Stott who was one of the original purchasers of the carriage in 1961 for 25 pounds and has been involved with its preservation through the Rail Heritage Trust. Paul Swain, MP had some thoughts on the purpose and objectives of the Society in connection with the building and the developement of the site..
Mayor Kirton and Paul Swain together cut the ribbon and declared the building officially opened.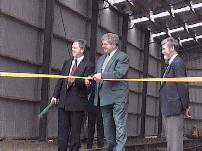 A Montage taken at the Opening of the North End facility at The Silverstream Site
Preparations.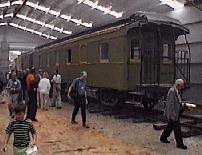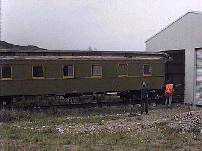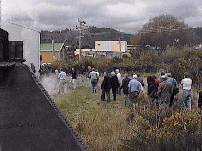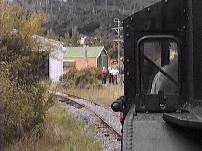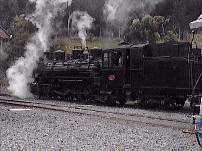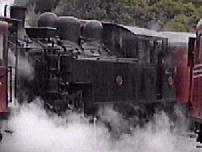 July 2002
With organisation and help from the local Forest & Bird branch we planted 250 native trees and shrubs on the north-eastern boundary, alongside the entrance driveway. The weather was not the best at times but work proceeded at a fast pace. The excavator's help was appreciated in readying the ground for digging and clearing off the grass and weeds. Morning tea was provided by the boys of the Silver Stream Railway who bought it up from McCurdy by train.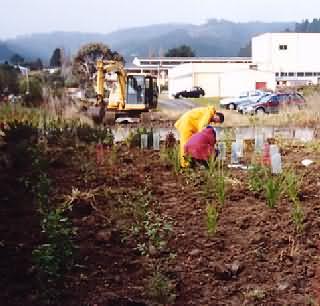 Looking back along the driveway to the road we see the excavator working on the second area alongside the boundary fence.
Some of the 120 plants in the near area have been heeled in and are getting their protective wind, vermin shields.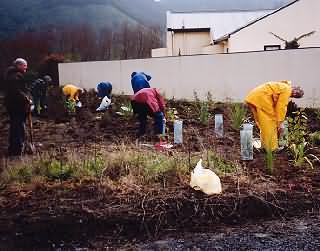 Our group of workers are hard at it digging, fertilising, planting and heeling the native trees and bushes in place.
The bare earth was later covered with a mulch to protect during the drier weather. The wall is our boundary and behind is a residential home for the elderly.