Restoration of the Society's three carriages built by the Wellington & Manawatu Railway at Thorndon, Wellington 1905-07 is proceeding steadily. Photograph 48 shows the visually complete body of carriage 48, the one that has been worked on longest and is most advanced.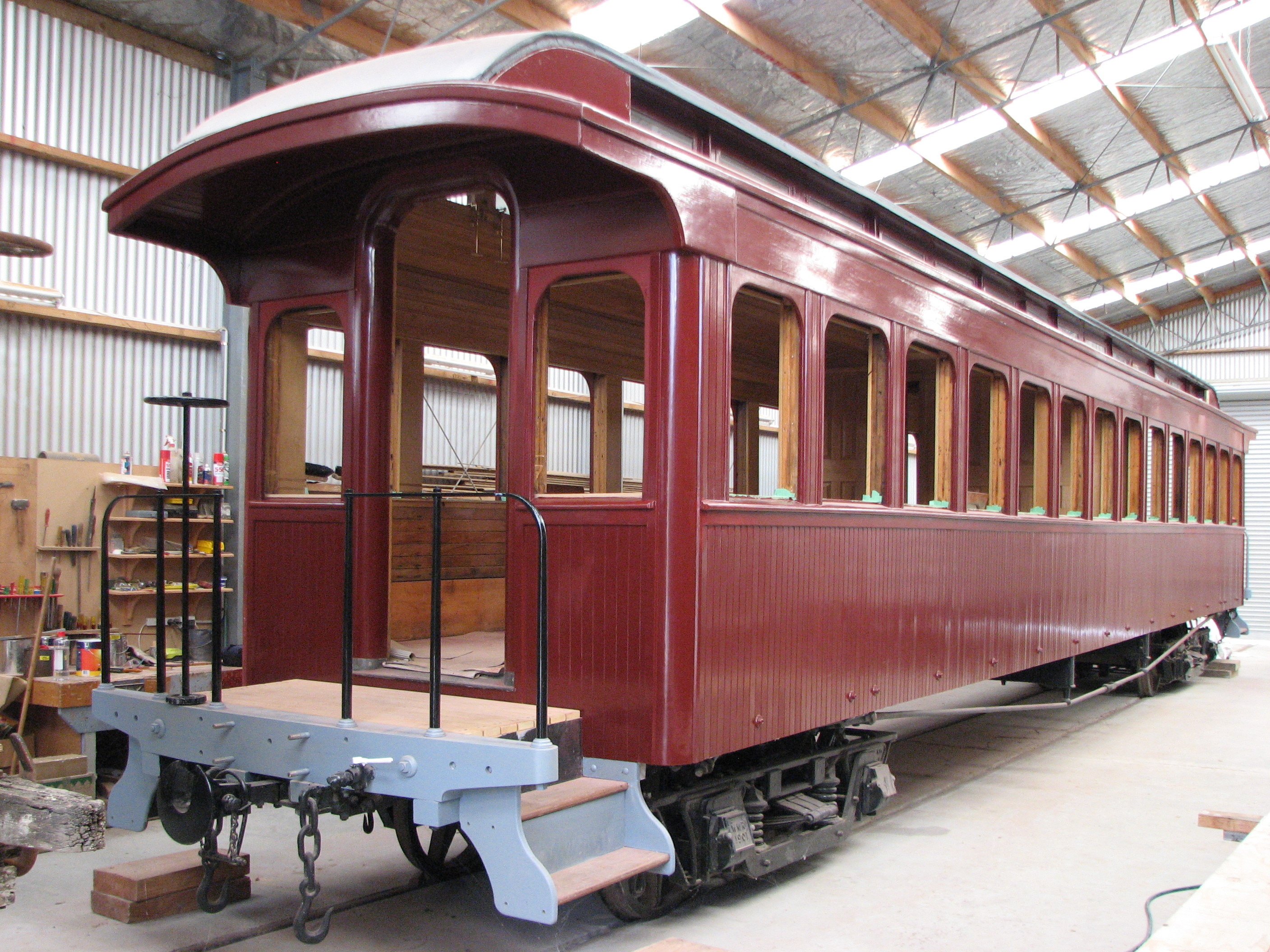 photo 48, Rob Merrifield
Since that photograph was taken the sparkguards over the clerestory windows have been fitted and painted. As these windows all open, it was necessary to fit mesh sparkguards to keep engine sparks out of the carriage while the train was in motion. The next photo 27 shows Graeme Bennett helping fit the sparkguard on one side of the carriage.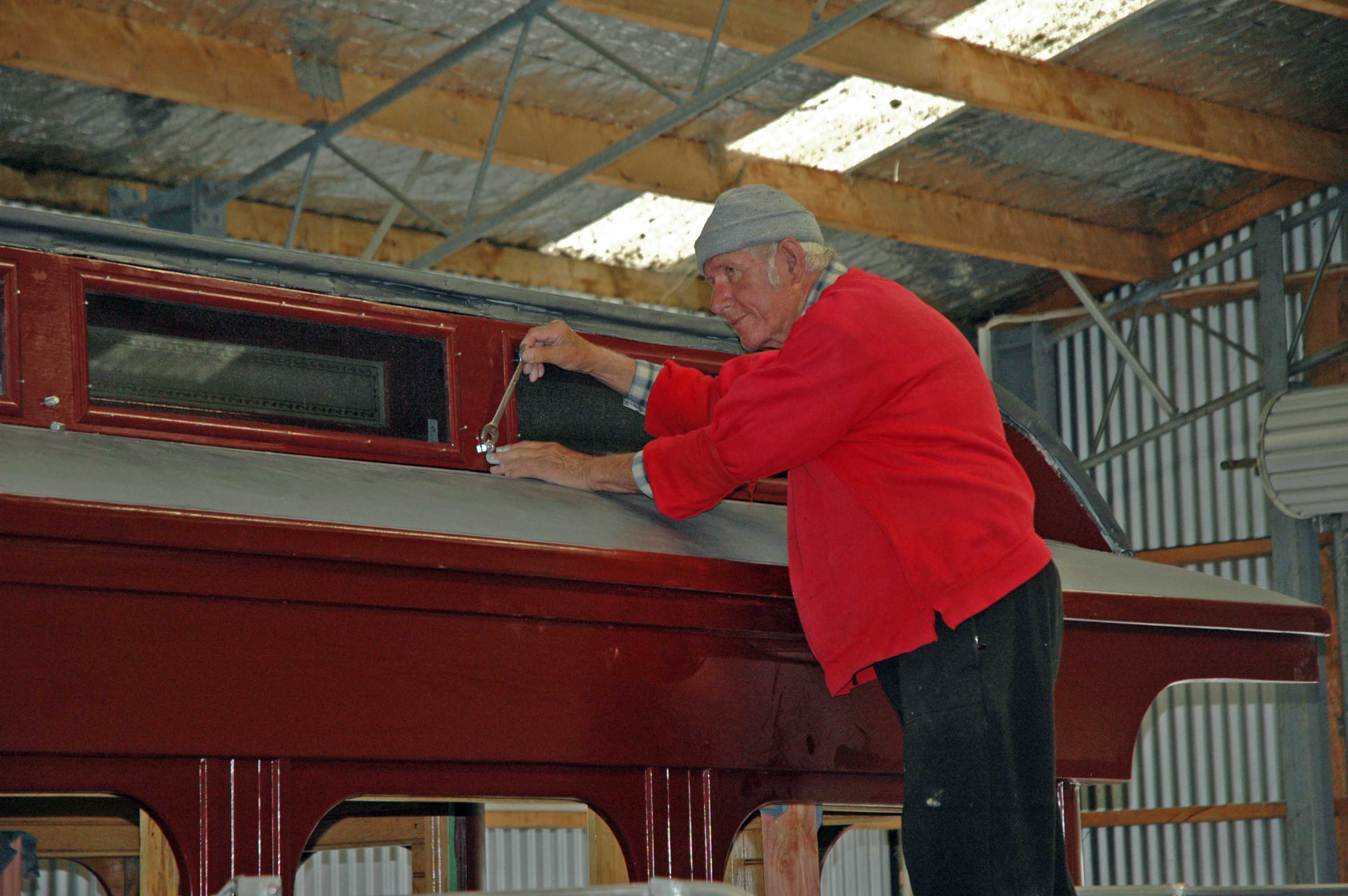 photo27, Rob Merrifield
The steel safety gates for the end balconies have been assembled and are with the painter.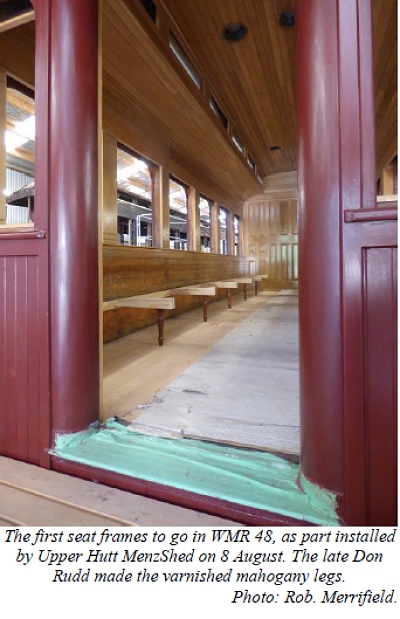 Inside the carriage MenzShed Upper Hutt have been helping us by making the frames for the seats.
These are being fitted inside No. 48 September-October 2018. We have raised the funds from donations and grants to allow us to have the seats upholstered once the frames are complete.
Also on site are WMR carriages 52 and 42. All were built as second class carriages by the WMR at its Thorndon workshops. No. 42 was built as part of the first batch, in 1905; No. 52 in 1907. No. 42 had an end toilet, unlike the other two which were built in a subsequent batch with a central toilet compartment. These are the last surviving complete WMR carriages.
Donations towards the cost of materials and services are appreciated and welcomed as we move towards completing No. 48. Much of the remaining work is specialist outwork that we cannot do in our own workshop and have to pay for. Examples of further such needs include the many small castings required to fully fit up windows and doors, also sign writing and the making of reproduction interior lights.
For a gallery of restoration Photos
goto "A Restoration Gallery"
BACKGROUND: The NZ Railway & Locomotive Society Inc (NZRLS) owns three ex WMR cars which are located at Silverstream, Hutt Valley. Before restoration work could commence, we had to erect a large display shed/workshop, build a track base, concrete the shed floor and front apron, and install an electrical supply. The building is wired for lighting, single and three phase power.
THE CARRIAGES: All three carriages were built by WMR at its Thorndon, Wellington workshops.
The plans they were built to were based on those for an earlier batch of carriages built by Jackson & Sharp (USA). The plans were for carriages supplied by that firm in 1902.
Build dates were:
42 1905,
48 1906,
52 1907.
Principally constructed from kauri timber salvaged from the company's original Belmont viaduct, they feature American oak and mahogany interior finishing timbers. Number 48 is structurally sound. No. 52 is in an advanced state of failure, mostly from decay of timber. No. 42 has been stored with some protection from the weather since it was bought by a Society member for preservation. It is in intermediate condition between that of 48 and 52.
ACKNOWLEDGEMENTS: A big "thank you" to our many sponsors and suppliers of grants, materials or services, for your support. A great deal has been achieved since we began this project. We look forward to completing No. 48, after which attention can focus more fully on No, 52.
Some images from the shop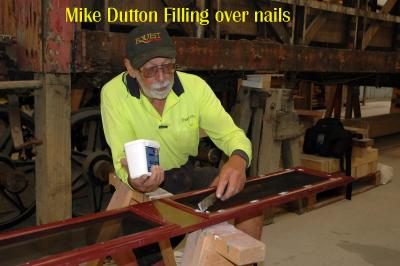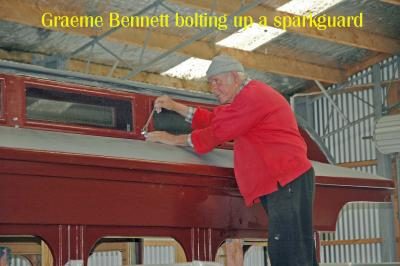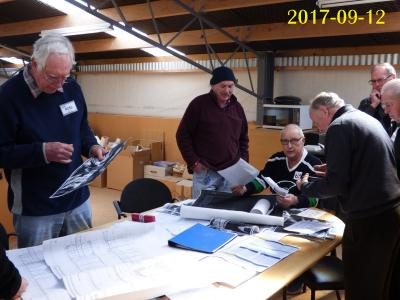 Photos: R. Merrifield.
August, 2017.