The Society's small team working on the restoration of three Wellington & Manawatu Railway carriages held an open day in our Silverstream, Hutt Valley, workshop on Saturday, 15 October. Work in progress was on display, with various parts being made explained.
Star of the show was the unveiling of the prototype kerosene-burning lamp to go in carriage No 48. Member Bruce Shadbolt has made this for us, and will continue with the other lamps needed once fit and headroom under the lamp have been checked. The principle of the lamp is that the central cylinder was a kerosene reservoir feeding fuel to the two burner branches, where wicks drew fuel up to the burners. Successively above the burners are glass chimneys, glass reflectors, and vents through the ceiling and roof.
After these carriages were taken over by NZR the kerosene and electric light originally fitted were replaced by NZR-standard Pintsch gas lamps. The last known sighting of the WMR lamps was when some were used to light a social hall at Paekakariki before mains electricity came to the village.
Our team would be very grateful for donations to the Society for the costs of completing this project.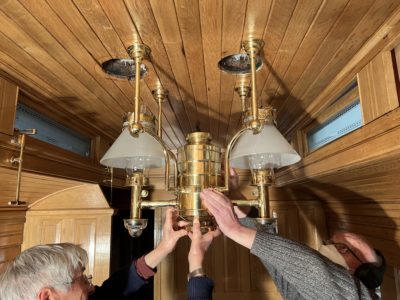 Checking Fit and Head Room