At June 2018 restoration work on Wellington & Manawatu Railway
Company carriage 48 (later NZR A 1126) has progressed to the point that
No. 48 has had the interior partitions made and fitted, and the old
entrance doors are being restored. The interior has been varnished and
painting of the exterior in a colour as close to that used originally as
possible, is progressing. The rate of exterior painting has slowed as it
need to be coordinated with other finishing work.
At the time of this report, work on fitting the spark guards over the toplights in the clerestory roof is nearly complete. These guards are to prevent locomotive sparks from coming into the saloons through any open toplight sashes.
These windows can be opened or closed, for ventilation reasons.
We have made patterns and core boxes for
reproduction dead buffers, as fitted by the WMR and later removed by NZR. Dead buffers were a customary North American fitting in the days of link and pin couplings intended to prevent cars from closing up and crushing switchmen when making a coupling. They were no longer needed once MCB auto-couplers became standard in North America following a US Congress Act of 1893. The WMR adopted these additional buffers for its bogie vehicle fleet additional to the standard Norwegian-style coupling used in New Zealand.
Also on site are WMR carriages 52 and 42. All were built as second class carriages by the WMR at its Thorndon workshops. No. 42 was built as part of the first batch, in 1905; No. 52 in 1907. No. 42 had an end toilet, unlike the other two which were built in a subsequent batch with a central toilet compartment. These are the last surviving complete WMR carriages.
A gallery of restoration Photos
Earlier pictures of WMR 48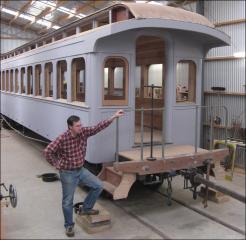 Bill Prebble gives the car a last minute check
over before it is coupled up to the duty loco
and it is squeezed under the roller door onto the tracks.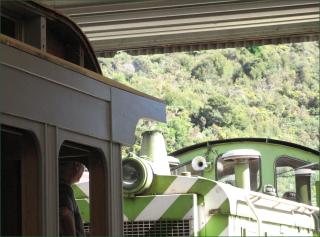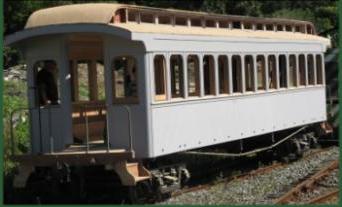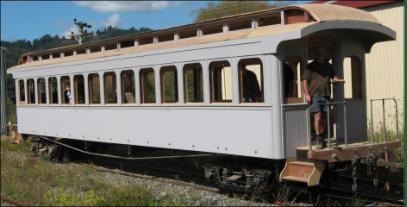 On the road. Showing the extent of the refurbished woodwork.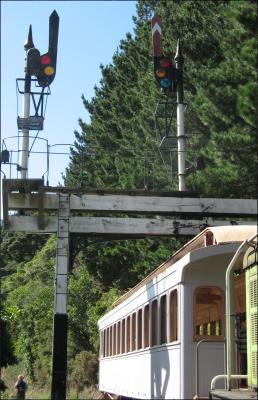 The car is run over the Silver Stream Railway's
line and passes under the signal gantry.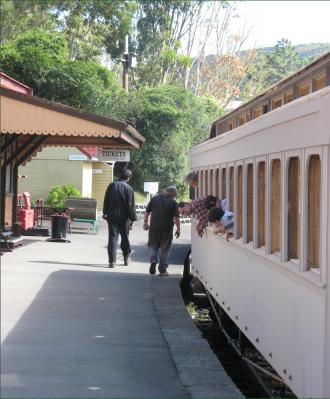 At the McKirdy station platform and a check
being made of the running gear.

New clerestory sashes assembled ready for
glazing, with one completed sash.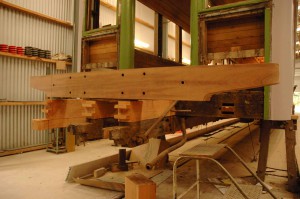 New headstock ready for placement on tenoned
joints with old and replacement framing timbers.
These timbers are a tribute to the joiner's art.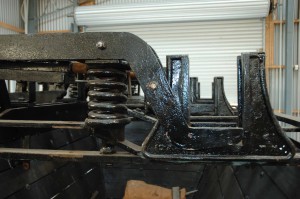 Overhauled bogies stored ready for wheels
and replacement under the body.
BACKGROUND: The NZ Railway & Locomotive Society Inc (NZRLS) owns three ex WMR cars which are located at Silverstream, Hutt Valley. Before restoration work could commence, we had to erect a large display shed/workshop, build a track base, concrete the shed floor and front apron, and install an electrical supply. The building is wired for lighting, single and three phase power.
THE CARRIAGES: All three cars were built by WMR at its Thorndon, Wellington workshops, to Jackson & Sharp (USA) plans for carriages supplied by that firm in 1902. Principally constructed from kauri timber salvaged from the company's original Belmont viaduct, they feature American oak and mahogany interior finishing timbers. # No. 48 is structurally sound. # No. 52 is in an advanced state of failure, mostly from decay of timber. No. 42 has been stored with some protection from the weather since it was bought by a Society member for preservation. It is in intermediate condition between that of 48 and 52.
SSTATUS: A small group commenced restoration of # No. 48 late in 2004, under the auspices of the NZR&LS. Funding has been from grants by community trusts and from donations, which are still being solicited to aid the work.
PROJECT OBJECTIVE: Restoration of # No. 48 to the original internal and external appearance as it was completed by WMR in 1906. Restoration of # No. 52 will follow on from No. 48.
WORK TO DATE: No. 48 was stripped of modifications made after the government bought the WMR and its equipment. The body was straightened and decayed wood was replaced. The interior has been stripped of paint and varnished to bring it nearer its original appearance. A last coat of exterior paint is still incomplete, awaiting completion of other work. New dividing partitions and draught screens at internal doors have been made and fitted. All body windows have been made, glazed, exterior faces painted and interior faces varnished. Bogies and the brake systems have all been stripped, overhauled and re-fitted.
No. 52's body has been placed on supports and levelled. All cladding and interior linings have been removed (they were beyond recovery) to expose the framing. Pre-cutting of replacement frame members has begun as time and resources have permitted.
No work has been done on No. 42. It is stored under cover beside the other two carriages.
WORK IN PROGRESS: Fiddly work finishing off the end details of covering mouldings at the ends of the monitor roof on No. 48 is in hand. One end entry door is being restored off site. Pattern-making for the multitude of small fittings continues. Reproduction Woods patent safety gates for the end balconies have been fabricated for No. 48 and are ready for anti-rust treatment before being finished glossy black and fitted into place. Reproduction seats are being made. Prices have been obtained for upholstery of the seats.
NEXT STEPS: Once work at roof top level on No. 48 is complete exterior body painting can be completed. The Woods gates are ready for assembly, powder coating treatment, and fitting in place on the end balconies. A range of small parts need to be cast or otherwise sourced and fitted. Three interior doors need to be made and hung. End entry doors need to be glazed with sand-blasted monogrammed panes, painted and varnished, and hung. Windows need to be fitted with catches, lifters, etc, and given their final coats of paint (exterior faces) and varnish (interior faces). Reproduction period electric and kerosene lights need to be made and fitted. Last exterior job will be signwriting and lining out of painted exterior panels.
Pre-cutting of replacement frame members for No. 52 will continue as resources permit. No work is planned on No. 42 at this stage.
ACKNOWLEDGEMENTS: A big "thank you" to our many sponsors and suppliers of grants, materials or services, for your support. A great deal has been achieved since we began this project. We look forward to completing No. 48, after which attention can focus more fully on No, 52.
Some images from the shop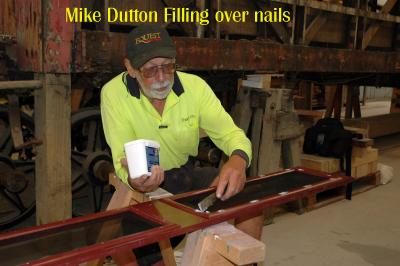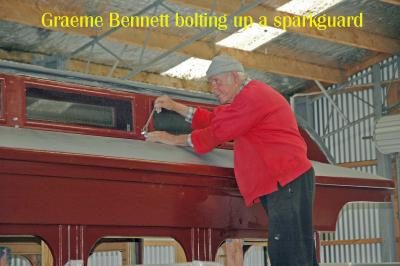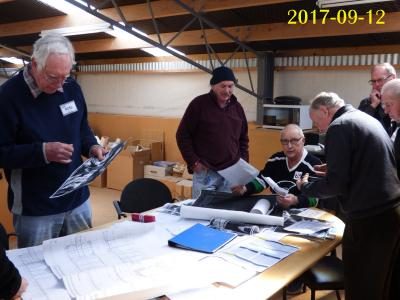 Photos: R. Merrifield.
August, 2017.