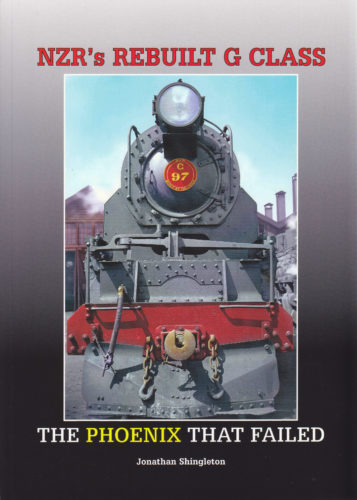 We now have this publication in stock.  Orders can be placed using the on line Order Form under the Publications tab.
From author Jonathan Shingleton, who brought us Alpine Thunder, the renowned book on the KB class, Jonathan brings us a well-researched and interesting account of NZR's rebuilt three-cylinder G class. In attempt to make something useful of the ill-fated Garratts, NZR used the chassis of the three Garratt articulated locomotives to build six G class Pacifics. In theory, these should have been very handy motive power for the South Island, but the engineering constrictions imposed by the loading gauge on the new design plus the inherent weaknesses transferred from the Garratt engine units to the rebuilt engines, all conspired to make them problematic and unreliable. Jonathan delves into the detail of how NZR attempted to correct the issues and improve the design, plus how the crews worked these unique three-cylinder engines. This is a fascinating read.
A4 portrait format, 100 black & white and 3 colour photographs, tables, diagrams, drawings and map. 142 pages, softbound.
Members Price:               NZ $43.00      AU $59.00      RoW $75.00  
Non Members Price:     NZ $53.00       AU $69.00      RoW $85.00